ПОХОЖИЕ ВИДЕО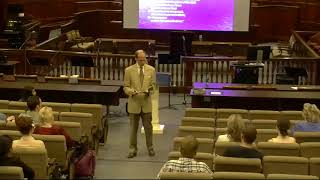 Regent University School of Law
2 год назад
Professor L. O. Natt Gantt, II, serves as associate dean of academic affairs and co-director of the Center for Ethical Formation & Legal Education Reform. Gantt received his A.B. in psychology and political science, summa cum laude, from Duke University; his J.D., cum laude, from Harvard Law School; and his M.Div., summa cum laude, from Gordon-Conwell Theological Seminary.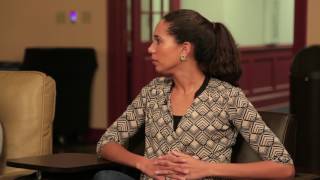 Regent University School of Law
2 год назад
Our 1L students meet with Regent Law Dean Michael Hernandez to talk about their favorite experiences of their first semester in law school. Learn more about the Regent Law experience: http://www.regent.edu/law/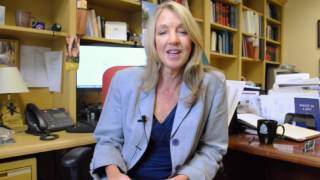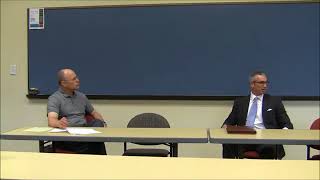 Regent University School of Law
1 год назад
Regent Law grad Barrett Luxjoh ('13) recently spoke to Professor Ben Madison's State Civil Pretrial Practice and Procedure class. Mr. Luxjoh answered several questions from Professor Madison. He then took questions from students. As a former Regent Law student, Mr. Luxjoh was familiar with CEFLER's mentoring program, which pairs Regent Law students with lawyers and judges from across the country. Mr. Luxjoh strongly encouraged students to get a mentor. In this video, he explains that a mentor is critical for development as an attorney and that attorneys have to rely on more than a set of rules, but a moral compass, when they practice law.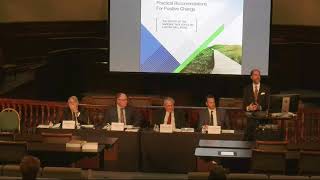 Regent University School of Law
4 мес назад
Panel 1: Mental Health Within the Legal Profession John Berry, Esq., Florida Bar's Legal Division Director Leonard Heath, Esq., President of the Virginia State Bar James Leffler, MS LPC, Clinical Director of Lawyers Helping Lawyers Mark C. Palmer, Esq., Professionalism Counsel for the Illinois Supreme Court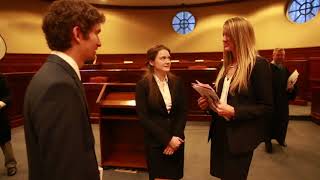 Regent University School of Law
1 год назад
Regent University School of Law graduates Regent LAW alumni who took the test ranked over other law schools in the state including University of Virginia, George Mason University, and University of Richmond. Read more: http://regentlawnews.blogspot.com/2017/10/regent-university-school-of-law-ranks.html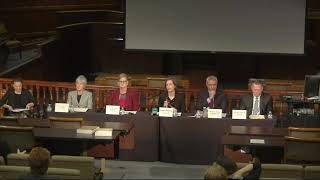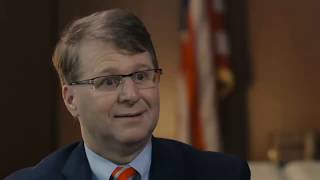 Regent University School of Law
2 нед назад
On Friday, March 1, Mark Martin, the former Chief Justice of the North Carolina Supreme Court, became dean of Regent Law. Learn more: https://www1.cbn.com/cbnnews/us/2019/march/regent-university-welcomes-nc-supreme-court-chief-justice-as-new-law-school-dean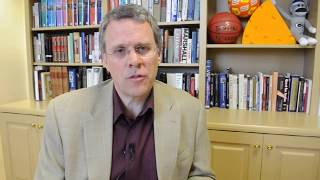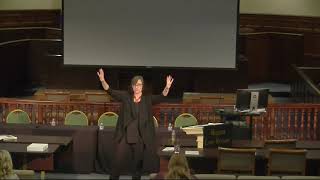 Regent University School of Law
4 мес назад
Mary Kelly Tate, Director of the Institute for Actual Innocence & Clinical Law Professor, University of Richmond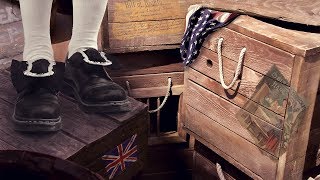 #WeThePeople 24/7 Patriots' Soapbox Stream
14 час назад
We're the Patriots Soapbox 24/7 YT Stream! We are the first and only 24 hour news and information broadcast network run by volunteer citizen patriots. We are LIVE, 24 hours a day, 7 days a week...no re-runs. We're here to fundamentally change the way journalism and media work in our world. It's time to return journalism to where it belongs: back into the hands of WE THE PEOPLE. ★VISIT THE NEW PATRIOTS' SOAPBOX MERCHANDISE STORE! (All "Q" items sold at-cost): https://teespring.com/stores/patriots-soapbox-2 ★ WE NEED YOUR HELP! See our donation link below to help us continue to improve your favorite platform. THANK YOU. WE LOVE YOU, PATRIOTS...GOD BLESS you and yours! paypal: https://www.paypal.me/PatriotsSoapbox https://www.patreon.com/PatriotsSoapbox ★ If you would like to donate anonymously via P.O. Box, please send check, money order, cash, etc. in a regular letter-sized envelope to: Patriots Soapbox LLC P.O. Box 4054 Merrifield, VA [Zipcode]: 22116-4054 OR DONATE TO OUR CRYPTO-CURRENCY WALLETS BELOW: Bitcoin Wallet: 3Cn3C9EYuH2d1kt5o8GT3aNzkCcMZu9M5T Bitcoin Cash Wallet: qq5lefhcuncyuwrg5hmsa8scarxf8jhfhsm5ap59fl LiteCoin Wallet:MBF8udoWKFjPaS1Tu5pfrFdnGtfPqhJRW8 Ethereum Wallet: 0x6028f0370Ee91034eD1502Db0cc84e698590Fa81 THANK YOU for your support, whether financial or just by being here, participating, and being a part of this with us. We love you all! ★SHOW SCHEDULE: https://calendar.google.com/calendar/r/week/2019/3/16?cid=OXMwNW1pY2RpZGhvbHFhOTQ5Ym9tZXJrcWdAZ3JvdXAuY2FsZW5kYXIuZ29vZ2xlLmNvbQ&pli=1 **ATTENTION: THE VIEWS EXPRESSED HERE, BY THOSE YOU HEAR SPEAKING AND SEE TYPING ON THIS LIVESTREAM, BELONG ONLY TO THOSE ESPOUSING THEM. NONE OF US SPEAKS FOR ANY OTHER...EACH PERSON ON THIS STREAM SPEAKS ***ONLY*** FOR HIMSELF OR HERSELF. NO INDIVIDUAL ON THIS STREAM SPEAKS FOR #WETHEPEOPLE PATRIOTS' SOAPBOX.*** ***DISCLAIMER: We are NOT LAWYERS/MEDICAL PROFESSIONALS. We are not giving legal or medical advice, merely sharing experience. PATRIOTS' SOAPBOX WILL NOT BE HELD RESPONSIBLE for ANY actions YOU take.*** Q: The Plan To Save The World (video): https://bit.ly/2MrkBd4 ★ OUR PUBLIC DISCORD SERVER INVITE LINK: https://discord.gg/wUQSJ5Q (Need to know how to use discord? Check this "DISCORD FOR DUMMIES" video!): https://www.youtube.com/watch?v=7BFytSpuAWs ★ OUR LIVE LINK: https://www.youtube.com/channel/UCWW3gYCvKS412p7o6qSK5gg/live ★ Link to our Twitter account: https://www.twitter.com/PatriotsSoapbox ★ LIST OF RESIGNATIONS/RETIREMENTS/DEATHS/ETC. (THIS IS THE MOTHERLODE, FOLKS!) check all of the tabs at the top!: https://docs.google.com/spreadsheets/d/1B-95giwldeKgsd0nYiw_sEaSf4kGNLZgEIvEhL2mVAw/htmlview?sle=true#gid=0 ★ DJT SPEECH @ THE AL SMITH DINNER OCT. 2016: https://www.youtube.com/watch?v=cYXCvkWWw8M ★ THOMAS PAINE'S "COMMON SENSE": http://www.ushistory.org/paine/commonsense/sense1.htm ★ 1977 SENATE MKULTRA INVESTIGATION DOC (LINKED BY Q): https://www.intelligence.senate.gov/sites/default/files/hearings/95mkultra.pdf ★ THE STAR SPANGLED BANNER. AS YOU'VE NEVER HEARD IT BEFORE: https://www.youtube.com/watch?v=YaxGNQE5ZLA ★ Q POST SITES (LOOK HERE FOR ALL Q POSTS!): Https://qmap.pub https://qresear.ch https://qanon.app/ https://qntmpkts.keybase.pub ★ 2017 Trafficking in Persons Report: https://www.state.gov/documents/organization/271339.pdf ★ LISTS OF DEAD MEDICAL RESEARCHERS/SCIENTISTS: https://www.stevequayle.com/?s=146 http://www.rense.com/general62/list.htm http://truthcommand.com/2017/11/recap-full-list-80-dead-scientists-photos-shocking-details/ https://www.healthnutnews.com/recap-on-my-unintended-series-the-holistic-doctor-deaths/ ★ NUNES MEMO: https://www.scribd.com/document/370598711/House-Intelligence-Committee-Report-On-FISA-Abuses ★ Steele Dossier: https://www.scribd.com/document/369319684/The-Steele-Dossier ★ Hillary Rodham Clinton e-mails: https://foia.state.gov/Search/results.aspx?searchText=*&caseNumber=F-2016-07895 ★★★★★★★★★★★★★★★★★★★★★★★★★★★ "BE LOUD. BE HEARD." "BUILDING THE ARMY. Not convinced this is spreading? You, the PEOPLE, have THE POWER. You, the PEOPLE, just forgot how to PLAY. TOGETHER you are STRONG. APART you are weak. THEY WANT YOU DIVIDED. THEY WANT RACE WARS. THEY WANT CLASS WARS. THEY WANT RELIGIOUS WARS. THEY WANT POLITICAL WARS. THEY WANT YOU DIVIDED! LEARN! FOR GOD & COUNTRY - LEARN! STAY STRONG. STAY TOGETHER. FIGHT, FIGHT, FIGHT. This is more important than you can imagine.
КОММЕНТИРОВАТЬ в ВКОНТАКТЕ
КОММЕНТИРОВАТЬ в FACEBOOK