ПОХОЖИЕ ВИДЕО
11 мес назад
Microservices are just a bunch hip new framework plus some AngularJS frontend or React, right? So, if you want to make sure that you absolutely and definitely fail at your Microservice project, then watch this talk and learn how. Using real world experience from multiple green field and brown field projects, I can show you: - how to ignore the mandatory organizational impact - how to focus on the code only without any regard towards ops and testing - continuous deployment is for losers. Real projects use their meat cloud for delivery - jumping onto every new and untested framework is a must - EventSourcing and CQRS are both free lunches. So, you can add complexity without any real need - ...and more If you mind my tips, then surely you will fail at Microservices and your boss will never again try to move away from your beloved vintage monolith. David Schmitz Pricinpal architect at Senacor Technologies with a history of + 13 years of working in various projects using a bunch of different stacks and environments. Current focus is on migrating architectures and organizations, such that our customers can cope with the challenges of the digital age.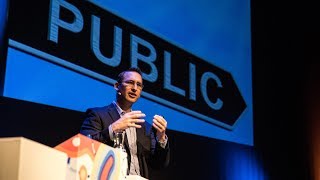 1 год назад
Domain-Driven Design Europe 2017 http://dddeurope.com - https://twitter.com/ddd_eu If (domain logic) then CQRS, or Saga? The "if" statement – the guard clause that makes sure that what shouldn't happen, can't happen. We see it all over our code base, especially in our domain logic. The thing is, when we use properties of domain objects in those if-statements, we don't even realize that other agents may have just changed that data – or will change it just a second later. In essence, hiding behind those little "ifs", are all kinds of race conditions and collaborative domains – the places where CQRS approaches are necessary. Join Udi for a different perspective on domain logic, CQRS, and long-running processes. It will be quite a saga. Udi Dahan is one of the world's foremost experts on Service-Oriented Architecture and Domain-Driven Design and also the creator of NServiceBus, the most popular service bus for .NET.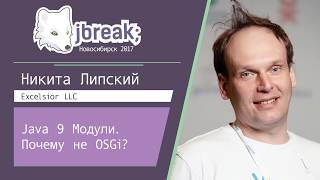 1 год назад
В Java 9 с неизбежностью появятся модули. Кого-то это мало волнует, кого-то пугает, кто-то искренне недоумевает: зачем, ведь у нас уже больше 15 лет есть OSGi, который решает ровно те же проблемы, что и модули? В этом докладе Никита попробует разобраться, какие проблемы пытается решить OSGi, как он их решает и решает ли в действительности. Затем обсудит, какие проблемы, которые пытается решить OSGi, Jigsaw совсем не решает и почему, а также какие проблемы решает и как. Ну и на конец доклада: какие проблемы Jigsaw при этом привносит в экосистему Java и что с этим делать.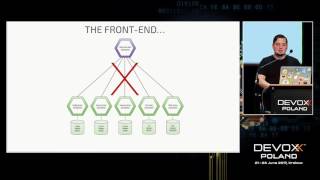 1 год назад
When you're building microservices, managing state becomes a distributed systems problem. Instead of being able to manage state as transactions inside the boundaries of a single monolithic application, a microservice must be able to manage consistency by using transactions that are distributed across a network of many different applications and databases. Event-driven architectures are a key component of solving data consistency issues in microservices. This session explores the problems of data consistency in microservices and the various event-driven practices that include CQRS and Event Sourcing. We will look at how these popular practices are implemented using Spring Boot and Spring Cloud Stream.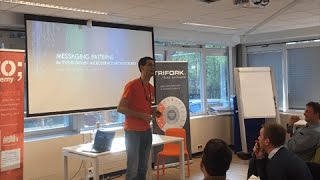 1 год назад
In this presentation, we take a DDD / CQRS approach on implementing Microservices, focusing on the messaging between individual services. We will discuss different approaches to ensure decoupling of services on the API level, as well as ways to ensure flexibility to change the system's behavior at runtime simply by switching services on and off. It's talk for developers and software architects seeking the pragmatic approach to implementing Microservices in complex applications in a future-proof manner.
4 мес назад
Adrian cowrote Django, a prominent server-side framework, yet he has come to believe that front-end frameworks are unnecessary for his own projects. Here's his impassioned argument for avoiding JavaScript frameworks on the front end. EVENT: dotJS 2017 SPEAKER: Adrian Holovaty PERMISSIONS: dotConference Organizer provided Coding Tech with the permission to republish this video. CREDITS: dotConference YouTube channel: https://www.youtube.com/channel/UCSRhwaM00ay0fasnsw6EXKA This talk link: https://www.dotconferences.com/2017/12/adrian-holovaty-a-framework-author-case-against-frameworks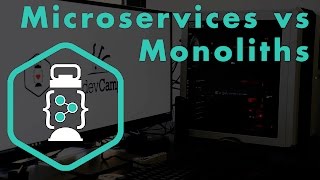 2 год назад
This guide discusses the topic of monolithic vs microservice architectures, including a list of pros and cons to each option. Show notes: https://www.crondose.com/2016/09/monolithic-vs-microservice-application-architectures/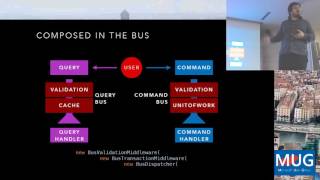 1 год назад
https://www.meetup.com/fr-FR/MUGLyon/events/237493706/ Session de février du MUG Lyon. Avec autant de buzzwords dans le titre, laissez-moi expliciter le menu : • Nous commencerons avec une étude des principes du CQRS et la notion de projection pour construire les modèles de données dédiées à la lecture, le tout avec un datastore traditionnel (relationnel). • Nous continuerons avec le concept d'état en programmation fonctionnelle, et comment les gérer au sein d'une application tout en respectant le principe d'immutabilité. Et pourquoi ont-ils transformé la gestion d'états pour la construction d'interface utilisateur ? • Dans un troisième temps, nous nous intéresserons aux évènements du domaine-métier dans le Domain Driven Design et comment ceux-ci s'intègrent dans la mécanique de construction des projections. • Enfin, nous assemblerons toutes ces notions pour faire apparaitre l'« event sourcing » comme modèle de persistance pour nos données. • Pour clôture, nous verrons les erreurs les plus courantes rencontrées lors de l'implémentation d'un modèle en event sourcing. Et nous terminerons avec une présentation de l'architecture que nous utilisons en interne chez Arpinum pour nos clients. Take away: • Utiliser CQRS (sans event-sourcing) pour simplifier la gestion de la persistance dans son application. • Comprendre le modèle d'états derrière Redux (utilisé massivement par la communauté ReactJs). • Gérer facilement les évènements-métier au sein d'une architecture DDD. • Savoir comment implémenter correctement un système basé sur l'event sourcing. • Présentation d'une architecture clef en main pour construire ce type d'application. Cette session sera animée par Arnaud LEMAIRE (@Lilobase), et suivi d'un apéro qui permettra d'échanger avec le speaker et les autres participants.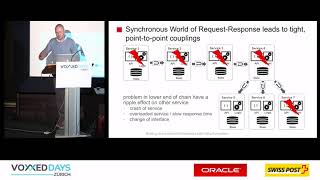 4 мес назад
This session will begin with a short recap of how we created systems over the past 20 years, up to the current idea of building systems, using a Microservices architecture. What is a Microservices architecture and how does it differ from a Service-Oriented Architecture? Should you use traditional REST APIs to integrate services with each each other in a Microservices Architecture? Or is it better to use a more loosely-coupled protocol? Answers to these and many other questions are provided. The talk will show how a distributed log (event hub) can help to create a central, persistent history of events and what benefits we achieve from doing so. Apache Kafka is a perfect match for building such an asynchronous, loosely-coupled event-driven backbone. Events trigger processing logic, which can be implemented in a more traditional as well as in a stream processing fashion. The talk shows the difference between a request-driven and event-driven communication and answers when to use which. It highlights how a modern stream processing system can be used to hold state both internally as well as in a database and how this state can be used to further increase independence of other services, the primary goal of a Microservices architecture. Guido Schmutz works for the Oracle Platinum Partner Trivadis. At Trivadis he is responsible for the innovation in the area of SOA, BPM and Application Integration solutions and leads the Trivadis Architecture Board. He has long-time experience as developer, coach, trainer, and architect in the area of building complex Java EE and SOA-based solutions. Currently, he is focusing on the design and implementation of SOA and BPM projects using the Oracle SOA stack. Another area of interest are Big Data and Fast Data solutions, and how to combine these emerging technologies in a modern information and software architecture. Guido is an Oracle ACE director for Fusion Middleware and SOA and a regular speaker at international conferences.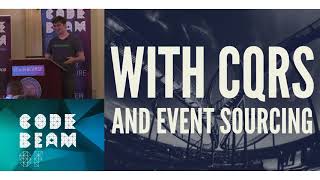 4 мес назад
A look into what EventSourcing and Command Query Responsibility Segregation are and how they fit together, followed by a tutorial on how to implement an application using these concepts with Commanded (a framework for elixir). OBJECTIVE Explain ES and CQRS and demystify them (with code), whilst growing the Commanded community by showing how amazing it is. AUDIENCE Developers that had overcome the basics of Elixir, understands a little bit about BEAM processes and that are looking for some architecture alternatives that can fit some problems.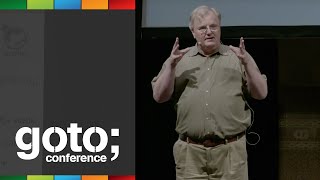 3 год назад
This presentation was recorded at GOTO Amsterdam 2015 http://gotoams.nl Pragmatic Dave Thomas - Pragmatic Programmer Turned Publisher ABSTRACT Dave Thomas was one of the creators of the Agile Manifesto. A year ago, he told us that Agile is Dead. How could this be? Why had he deserted us? And what are we to do? It turns out that while the "Agile" industry is busy debasing [...] Download slides and read the full abstract here: http://gotocon.com/amsterdam-2015/presentation/EVENING%20KEYNOTE:%20Agile%20is%20Dead https://twitter.com/gotoamst https://www.facebook.com/GOTOConference http://gotocon.com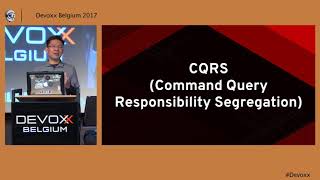 8 мес назад
"One size does not fit all." And this is still specially true for your distributed data! Different types of data require different approaches of how you distribute & manipulate your data. Update frequency? Staleness? Push or pull? Legacy or new? Cache or direct read? Event Sourcing? Business or low-level events? Check this session to see how different technologies such as Data Virtualization, Change Data Capture, In-memory Data Grids, Reactive Programming and much more can be applied to solve a plethora of different data scenarios with different requirements. Edson Yanaga, Red Hat's Director of Developer Experience, is a Java Champion and Microsoft MVP. He is also a published author and a frequent speaker at international conferences, discussing Java, Microservices, Cloud Computing, DevOps, and Software Craftsmanship.
КОММЕНТИРОВАТЬ в ВКОНТАКТЕ
КОММЕНТИРОВАТЬ в FACEBOOK