Full interveiw https://www.youtube.com/watch?v=PXAfo764c8c

ПОХОЖИЕ ВИДЕО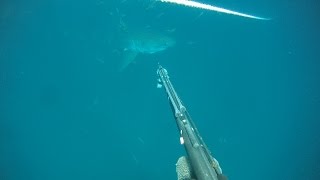 2 год назад
My buddies Alex Fogg, Joe Kistel and I had been filming and collecting lionfish at various sites in the Gulf southwest of St. George Island FL. We had been taking turns with Alex and Joe diving together while I dove solo. This was my third and final dive of the day on a man-made structure in 93' feet of water approximately 22 miles due south of St. Vincent Island. The shark enters the camera's field of view at 3:48 and a moment later catches my eye. I instantly recognized it as great white and you can faintly hear me say "Oh my God". I estimate the fish was 35' or so below me. It spooked me in that it had approached from behind and had already passed me when I saw it. I watched until it swam out of sight then re-cocked my speargun which I usually unload when heading back to the boat as a safety precaution. I glanced around looking for the shark and up at the boat to make sure the dive ladder was indeed down. I noticed a small lionfish had escaped from my bag and was swimming down and you can hear me say "oh no". The bag of lionfish was positively buoyant and it drifted into me dragging the stringer of mangroves with it. I moved it out of the way and kept scanning the water column below. My first two dives had been to 120' and I had pushed this dive at 93' to my limit of bottom time. I needed to do this safety stop to avoid the bends, so I stayed where I was while my computer counted down the required 3 minutes. I took another quick look at my boat and another at my computer which shows me at 15' below the surface. Most sharks have a tendency to come back for another look and that's exactly what this one did. Fortunately, I was looking in the general direction when I faintly saw something that caught my eye. It was the shark about 40' away coming straight at me from below. I've had countless encounters with bulls, sandbars and a few tigers and hammerheads. Over the years, I've learned the best defense is to go on the offense and let them see that I'm not intimidated. Turning and running could trigger the predator/prey instinct, so I stood my ground aiming my speargun at its head. For a second I figured this was it and was prepared to fend it off with my gun like I have done countless times before with curious or aggressive sharks. Fortunately, for whatever reason, this one turned at about 15' away and gave me a full profile view. I say "Oh my God" again and then let out a loud sigh of relief when he turns again and heads back down. I watched until it disappeared again then decided to take my chances with decompression sickness rather than a third visit from the shark, so I skipped the remaining 2 minutes of wait time and headed to the surface and safety of the boat. I estimate the shark was 9-10' long and at no time did it seem aggressive or anything other than curious. I'm a charter captain and I had a juvenile great white around 12' long circle my boat last year about 30 miles out around the same time the tagged great white shark named Katherine was being tracked in the Northern Gulf. I had heard other reports of random sightings and saw the news reports of the great white caught off the beach in Panama City so I knew great whites come into the Gulf. This was the first one I've ever seen while diving and this experience will make me reconsider diving in murky water with limited visibility. I'm glad we both went our separate ways fully intact and healthy, but I hope I never have to experience another encounter like that again.
4 мес назад
The short clip of me getting attacked by a 7-8ft reef shark. We were spearfishing near Middle Sambo reef off Boca Chica in the Keys on Sunday when this shark came out of nowhere. He first went at my dive buddy Justyn but immediately turned toward me. He first bit my left fin then took a chunk out of the right one before biting my leg and cutting the speargun line. I assumed he was trying to steal the black grouper i was holding. But after I lost the grouper and watched it swim to the bottom, the shark kept coming at us! Justyn went back down for my gun and actually shoved it in the sharks mouth like a badass!!!! The shark then took it straight to the bottom while we rushed back to the boat and safety. Always dive with a buddy and someone who is trained in first aid! I would not have made it back to the boat without the help of another strong swimmer and would have bled out had I not been patched up so well by Amanda. The shark tore through the skin, fat tissue, muscle, muscle sheath, and unfortunately my tibial artery which caused me to lose more than a liter of blood. This clearly could have been much worse! Happy to still have my leg even with a piece missing! And we even got my Koah speargun back!!! 🦈 🦈 🦈 🦈 🦈 🦈 Thanks to everyone that was there or came to help! Pictures of the wound were quite graphic and have been left out. To view them click the following link: https://goo.gl/photos/vyUKpbmtg2e8ZH3A7 #NoThatsMYLeg #TheTaxManStrikesAgain To use this video in a commercial player or in broadcasts, please email licensing@storyful.com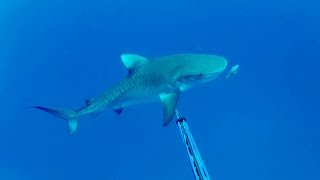 2 год назад
Filmed by Paul Marsh While on a breath hold spearfishing adventure to the Coral Sea in Australia, a young Spearo (Paul Marsh) encountered a near critical and very exciting experience. A Tiger Shark rushes him and his dive buddy several times before they manage to hurl themselves into the boat. Many screams follow due to huge amounts of adrenalin, joy and excitement as Spearo's love this kind of experience and action.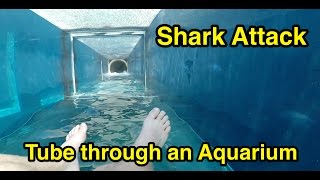 9 мес назад
Take a HD POV aboard Shark Attack where you tube through a shark filled aquarium. Thanks for watching!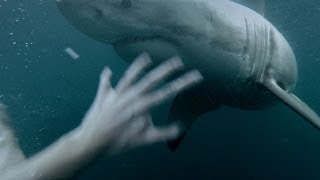 3 год назад
Close Call with a Great White Shark in Sydney Harbour! Filmed on a GoPro at Manly jump rock HOLY SH*T! -- 'Terry Tufferson' Created By CASPAR MAZZOTTI Directed By CASPAR MAZZOTTI Find out more @ www.thewoolshedcompany.com/virals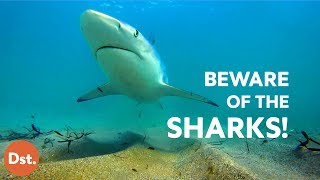 1 год назад
Get more Tips here! www.destinationtips.com Shark attacks seem to be on the rise in many parts of the world, therefore, you might want to steer clear of the following known shark-infested waters. Statistically, these are among the most dangerous beaches for deadly shark attacks. 1. Pernambuco, Brazil The shockingly high attack rate in these waters appears to be due to over-fishing. Without enough food supply, the sharks have begun to sample other forms of fare to satisfy their relentless hunger. 2. Second Beach, South Africa The beach is popular among shark-seeking tourists and cage divers. Tour operators dump boatloads of bloody chum in the water order to entice the great whites. You definitely don't want to surf or swim anywhere near these boats and their chum lines. 3. New Smyrna Beach, Florida More than 238 shark attacks have been documented at Florida's (surprisingly) popular New Smyrna Beach. In fact, 15% of worldwide shark bites have occurred here. Most of the bites are courtesy of baby bull sharks that favor these waters. To date, none of the recorded attacks here have been fatal. 4. Velzyland Beach, Hawaii About 41 different shark species that frequent Hawaii's waters including aggressive specimens like bull sharks and great whites. The last fatal shark attack at this beach occurred in 1994 when a tiger shark attacked a surfer. More recent attacks on surfers have been reported, but none fatal. 5. New South Wales, Australia This region, which includes famous Bondi Beach, has recorded more than 170 unprovoked shark attacks and more than 50 fatal attacks, and great white shark encounters are more common here than in other parts of the world. Due to the position of the continental shelf, swimmers and surfers are in close proximity of deep waters where these potential predators cruise. 6. Fletcher Cove, California Fletcher Cove may be picturesque, but it is also the scene of 142 unprovoked shark attacks, including some recent fatalities. Scientists are convinced that the fish-strewn waters in this region are ideal feeding grounds for large predators like the great white. 7. Reunion Island, Indian Ocean This island has had more than 10 attacks in a recent two-year period, three being fatal. This has prompted island officials to close the beaches to swimmers and surfers. Experts aren't sure why the sharks are biting people with greater frequency. 8. Myrtle Beach, South Carolina Since 2005, there have been more than fifty attacks. In fact, researchers have claimed that South Carolina's waters are just as dangerous as Florida's when comparing the swimmer-to-attack ratio. Their waters are attractive to species like tiger sharks and bull sharks. 9. Coffin Bay, Australia The name says it all. Don't swim here unless you fancy a meeting with a great white. Recently an abalone diver was attacked and killed by two great white sharks. His body was never recovered. 10. Surf Beach, California A nineteen-year-old surfer was attacked and killed a few years ago by a great white shark believed to be 18 feet in length. The waters here are home to seals, which attract great whites in large numbers.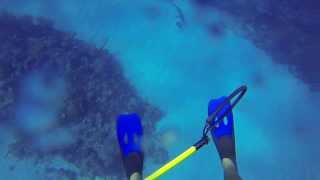 4 год назад
For licensing/usage please contact licensing@jukinmedia.com Caribbean Reef Shark encounter in the CAYMAN ISLANDS. Just east of Frank Sound. We were Lion Fish Culling when the shark came out of no ware. It scared the crap out of me. Filmed on my GoPro 3 camera. We were in about 70' of water when the shark encounter occurred.  I want to make it clear that I am hunting lion fish to help protect the reef from the destruction that they cause. The shark was acting in his natural environment. I have no ill will toward him and will get back in the water and continue to protect the reef for future generations. I would strongly encourage anyone out there to donate to REEF.org or other organizations to help protect our reefs, Sharks and the beautiful creatures in them. For licensing/usage please contact licensing@jukinmedia.com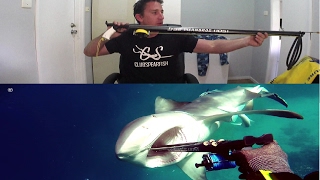 8 мес назад
Interveiw regarding Bullshark attack on a spearfisherman in North Queensland Australia December 2016. https://www.youtube.com/watch?v=pnA5DT3ilQw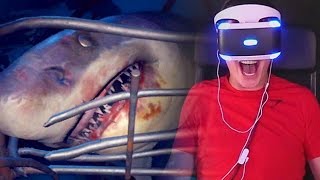 11 мес назад
Leave a 'Like' if you guys want more VR gameplay on the channel! ● CHELS TRYING THE SHARK GAME: https://www.youtube.com/watch?v=hEfBznLRNV8 Check out my vlog channel: http://www.youtube.com/c/trevandchels Check out my main channel: http://www.youtube.com/TmarTn Follow my primary twitter: http://www.twitter.com/TmarTn Follow the TmarTn2 twitter: http://www.twitter.com/TmarTn2 Like me on Facebook: http://www.facebook.com/TmarTn Thank you for watching!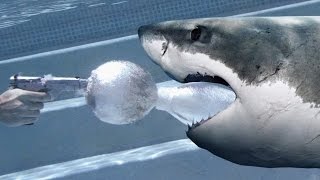 4 год назад
Slow Motion Underwater Guns: Shark ammo -- RatedRR Ditch the hipsterbucks and get your Black Rifle Coffee here: https://brcc.coffee/2rjdvS5 CLICK here Subscribe!: http://www.youtube.com/subscription_center?add_user=RatedRR This is where I giveaway brass from shoots and other cool random perks: http://fullmag.com Keep up with my stuff before it comes out! http://www.Instagram.com/RichardRyan http://www.Facebook.com/RichardRyan http://www.Twitter.com/RichardRyan Behind the Scenes of this video: Reloaded http://goo.gl/pLf3sX Smarter Every Day: http://goo.gl/5WBYUN The video of inspiration -- http://goo.gl/4Sjrko AK-47 Underwater -- http://goo.gl/7h1qIJ Cavitation -- http://goo.gl/Hb460I The Slow Mo Guys: http://goo.gl/bKYSKX Underwater Bullets -- http://goo.gl/vtVX93 Shirts Available Here: http://www.endoapparel.com/ Ship me your dead gadgets: Richard Ryan P.O. Box 5220 Sherman Oaks, CA 91413 The Breakdown Slow Motion Underwater Guns: Shark ammo -- RatedRR More about Sharknado: http://goo.gl/ehqTdj More about 2 Headed Shark: http://goo.gl/B1ZQca A little about the cameras I use: RatedRR Slow Mo Camera: 1 - 1 million fps http://goo.gl/EjVkV GoPro Hero 3 Black Edition: 120 fps http://goo.gl/E8TIB9 RED Epic: 24 fps http://goo.gl/z9P8Jd Vision Research Phantom Miro LC310: 3,630 fps http://goo.gl/3g1OzD Vision Research Phantom Flex 4k: http://goo.gl/p4qIzv Vision Research Phantom V1610: 1 - 1 million fps http://goo.gl/Eu8bRu Vision Research Phantom V1210: 1 - 1 million fps http://goo.gl/fNgBXX Photron Fastcam SAX2: http://goo.gl/o7msX4 Slow Motion Underwater Guns: Shark ammo -- RatedRR the Breakdown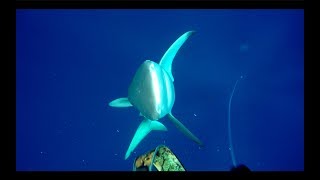 2 мес назад
It was a long way to go from New Zealand to Ascension Island to nearly get eaten by sharks! In this video, shooting a small yellowfin tuna with a pole spear got out of control when 2 galapagos sharks tried to steal the catch. We put cool stuff on our Facebook page www.facebook.com/TheAdventureClub.nz * Jukin Media Verified * Find this video and others like it by visiting https://www.jukinmedia.com/licensing/view/965900 For licensing / permission to use, please email licensing(at)jukinmedia(dot)com.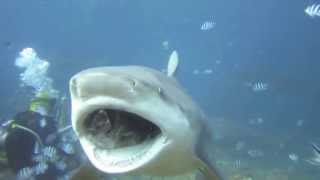 4 год назад
Handling a large aggressive shark underwater
КОММЕНТИРОВАТЬ в ВКОНТАКТЕ
КОММЕНТИРОВАТЬ в FACEBOOK